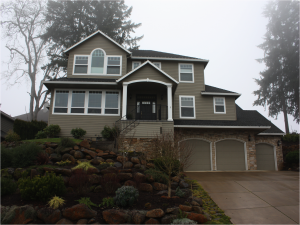 We recognize that like people, each and every property is unique and reflects the owner's personal style. We appreciate the process of transforming a room, creating impact and bringing curb appeal to an exterior; always taking special care to ensure the home owner's visions come to life. We never take for granted the impact a great paint job can make and pleasing our customers truly gives us a sense of satisfaction.
With over thirty years in the business, we have the experience property owners have come to appreciate and trust. Never compromising on quality means we always use high end and reliable paints with staying power. Our work illustrates that neither beauty nor durability need be sacrificed. Our highly skilled team will always ensure the structure and surfaces are prepared properly to ensure a beautiful finish with longevity.
Hobbs Painting has a wide range of capabilities and experience to draw from making us an excellent choice for residential projects of all types and sizes. Whether you have a rental property you are preparing for the market, are the owner of a vintage craftsman or a custom-built luxury estate, we have the experience to provide you with an affordable quality painting solution you can be proud of.
You can view some of our fine work in the Photo Gallery or read Testimonials from previous customers.
Exterior Painting Services
Exterior House Painting (Single Family, Plexes, Condos and Townhomes)
Siding Painting
Cedar Shingle Painting and Staining
Exterior Trim and Millwork Painting
Deck and Porch Painting
Gutter, Downspout and Iron Work Painting
Garage Painting
Concrete Foundation Painting
Tenant Improvement
Pergolas' and Exterior Structures
Fence Painting
Exterior Fixtures
Preparation and Clean-up