Paint is a crucial element in the overall presentation businesses offer to the public.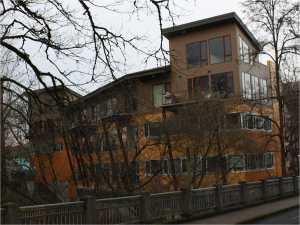 We've all had the experience of driving or walking up to a building that presented a less than professional first impression. It isn't difficult to recall a particular business and the feelings that sloppy or peeling paint evoked.
A good commercial painter understands the value of a well painted commercial property. It is not only about his reputation as a painter, but the image and reputation of the business. Both are intrinsically connected. Hobbs Painting has a great reputation as a quality, reliable commercial painter. We are reputable because we make businesses look great.
Our team of expert painters is knowledgeable, professional and highly skilled. Painted everything from pizza parlor chairs to 250,000 square foot buildings. We have a wide range of experiences with various textures, applications and products to ensure your business is polished, professional and ready for customers. It's our job to make you look good.
Whether responding to a formal bid or creating lasting partnerships with a Property Management company, Hobbs Painting has the expertise from estimate to finish. We know what matters to commercial property owners and developers alike. You need value and a painter you can trust. You need a painter that can deliver more than a good price. You need a painter that can get the job done efficiently on schedule, within budget without hassles. We have been through it hundreds of times, and we speak your language. If you are looking for an experienced team that gets it, count on Hobbs Painting.
Some of the Commercial Painting Services we provide:
* Tenant Improvements
* Color Consultation
* Hospitality
* Institutional
* Medical
* Multi-Family
* LEED
* After Hours Work
* Retail
* Various Textures and Applications
* Property Management Support
Take a look at some of our excellent work in our Photo Gallery or visit our Testimonials page to see what our customers have said about us.
Ready for the next step?
Every great relationship is founded in trust and flourishes with the introduction of synergy. We would love the opportunity to learn more about your commercial painting needs and share more about our team. Through discovery, we can learn more about your needs and provide you with a formal bid.
Would you like us to submit a bid on your project?
Please feel free to contact us so we can arrange a time to review your at plans.