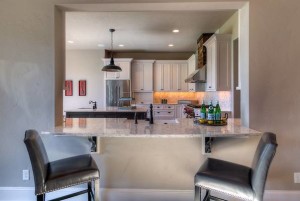 Smooth surfaces, sharp corners and straight lines are just the visible parts of a top quality commercial or house painting job.  Truly great custom painting combines excellent communication, thorough preparation and finely crafted finish work.
At Hobbs Painting, our professional journeymen combine a systematic approach and meticulous attention to detail to deliver the beautiful, long-lasting, custom painting results you expect. It may take a bit longer, but we've learned over the years that this strict attention to process, quality and craftsmanship results in fine quality finishes that you can be proud of to protect your home or work space for years and years to come.
Our House Painting & Commercial Painting Process
Hobbs Painting takes the time and effort to make sure your custom painting project gives you great looks and lasting protection. Our meticulous, proven process includes:
Preparation
Before we ever take a single brush stroke we fully prepare all surfaces to ensure longevity and great looks.
* Set up and protect — Cover or move furniture, floors and equipment to create a clean, safe working environment.
* Scrape — Remove loose paint with hand scrapers then re-scrape after power washing to ensure a tight, secure substrate.
* Clean/Wash — Power wash surfaces to be painted. Use mild bleach solution to kill algae/mildew.
* Sand — Feather sand edges where scraping has produced a ridge.
* Prime — Spot prime raw and rusted surfaces using the appropriate primers.
* Glaze and patch — Replace missing and loose window glazing. Fill large holes or voids with appropriate patching compounds.
* Prime — Re-prime patched areas to ensure a properly sealed substrate.
* Caulk — Caulk doorframes and windows, or wherever moisture can potentially enter and result in damage.
Painting
Our expert painters use professional techniques and tools to give you a clean, even finish that protects and adds character to your space.
* Paint — Use two full coats of only top quality products for a superior look and long-lasting, custom painting finish.
* Finish — Keep corners sharp, lines straight, decorative painting meticulously detailed, and faux finishes consistent.
* Clean — Maintain jobsite cleanliness before, during and after the painting project is complete.
Communication and Inspection
Your personal project manager keeps you updated through every step of your custom painting project.
* Manage — Professionally oversee your entire project from start to finish, ensuring it meets your quality, time and budget needs.
* Inform — Keep you informed on your project status and answer questions or concerns.
* Inspect — Survey the painting project to ensure your complete satisfaction.
Additional Services Provided:
* Color consultation
* Custom painting
* Decorative painting
* Faux finishes
* Maintenance contracts
* New painting
* Oil-based enamel coatings (applied by hand)
* Spray and brush painting
* Trim